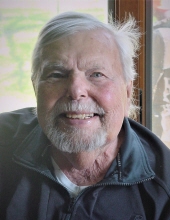 Obituary for Kenneth E. Culling
Kenneth E. Culling, age 96, of Lapeer, formerly of Royal Oak, died Tuesday, April 16, 2019. Our Beloved Father (Papa) was born in Detroit on November 3, 1922. He was 1 of 6 siblings. As a teenager, he attended Wilbur Wright High School near Detroit.

At the age of 19, Ken decided he wanted to join the U.S. Marine Corps instead of waiting to be drafted, he signed on for 4 years. Because of his age, he had to get his mother's permission, which she reluctantly gave. It was a big deal and had to be signed in front of a notary public. He was signed and enlisted on May 25, 1942. Our father had never fired a gun, however, by the time he was done with boot camp 12 weeks later, he had achieved "expert' status. He was a member of the U.S. 2nd Marine Division, he saw heavy action in South and Central Pacific. Battles in Guadalcanal, Tinian, Saipan, and Tarawa, which he called "the worst". He was Honorably discharged on May 25, 1946. May 25th every year was a day that was very emotional for him...he went into the service on May 25th and returned on May 25th.

After returning home Kenneth and his brother opened an Automobile service station in Royal Oak. It was at the Service station that he met the Love of his life, Evelyn Jorgensen who changed his life forever. If there were ever 2 people absolutely made to be together and completely in love, it would be Ken and Evelyn. They were together loving each other, forever sweethearts for 60 years (and counting as he would often say!).

Ken and Evelyn had 2 daughters Laura Lowe- Gleason (Matthew) and Kelly Morgan, and 5 grandchildren: Heather Morgan, Holly Morgan, Anna Lowe (who was named after Ken's mom), Kenny Lowe (who was named after Ken) and Brett Morgan.

Mr. Culling was a valued and active member of St. Paul Lutheran Church in Royal Oak. He also ran a very successful Business (Almond Auto parts) in Royal Oak with his brother in law for 27 years. He earned his degree in business education at Wayne State University and for several years taught evening business education classes in Royal Oak that helped women with skills to reenter the workplace. Ken also served as a Royal Oak City commissioner for 8 years.

His beloved Evelyn passed away in March of 2016 and Ken moved from Royal Oak to Lapeer to live his daughter Laura and her family on their horse farm. He loved watching all the daily and ever-changing activities around the house and farm. He always got a kick out of his 6 ducks swimming in the pond, he loved riding on the golf cart around the property and his faithful, chubby pug Henry! He became a faithful member of St. Paul Lutheran Church in Lapeer. He was always very strong in his Christian faith and instilled that in his family.

Ken was always up on current events and loved watching sporting events with his son-in-law Matt (Baseball and Football). He ALWAYS had a kind word for everyone and he meant every word he said. To know him is to have loved him and his kind and gentle spirit. He was also very funny and quick witted! He took great pride in his family and he made sure to tell and show us how much he loved and cared for us daily!

He was my (Laura) very best friend...my pal. I am so Thankful that Kelly and I were by his side when he went peacefully to heaven to be with Jesus and his love (our mom) Evelyn and all of our relatives and friends that passed before. To say that I will miss him is a huge understatement .... There are very few Angels on Earth and Ken Culling certainly was one of the best ones....truly my very, very best friend.

We love you dad...until we meet again our great friend.

A memorial service to honor Ken's life will be held at 11:00AM Monday, April 22, 2019, at the St. Paul Lutheran Church, 90 Millville Rd., Lapeer, Michigan 48446. The family will receive friends from 10-11AM Monday, prior to the service at the church. Pastor John Kaiser will officiate the service, which will be followed immediately by a luncheon at the church. Military Honors will take place 9:30AM Tuesday, April 23, 2019, at Great Lakes National Cemetery, 4200 Belford Rd, Holly, MI 48442. Mr. Culling's cremains will be buried there, next to his loving wife Evelyn. Memorial contributions may be made to St. Paul Lutheran Church in Lapeer. Arrangements for cremation have been entrusted to Muir Brothers Funeral Home in Lapeer. Please share condolences and memories at www.MuirBrothersLapeer.com..
Previous Events
Receive Friends
St. Paul Lutheran Church
90 Millville Rd.
Lapeer, MI 48446
Memorial Service
St. Paul Lutheran Church
90 Millville Rd.
Lapeer, MI 48446
Military Honors
Great Lakes National Cemetery
4200 Belford Rd.
Holly, MI 48442
Cemetery Details
Location
Great Lakes National Cemetery
4200 Belford Rd.
Holly, MI 48442
Memorial Contribution