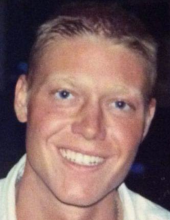 Obituary for Zachary Thomas Hutton
ZACHARY THOMAS HUTTON of Dryden died in a tragic car accident on Friday, April 26, at the age of 32.
Zach, the first-born son of Jeffery and Cathy Hutton, was born in Royal Oak on April 20, 1987 and lived in Hazel Park, Lake Orion and Dryden. He graduated from Lapeer East High School in 2005 and attended Oakland University, later working with his dad in the aerospace industry.
Zach's magnetic personality, quick wit and deep sense of empathy made him a friend to everyone he met. His artistic nature, intelligence and charm were marked characteristics that made an indelible impression.
Nothing meant more to Zach than his family, and he never recovered from the loss of his mother, who preceded him in death in 2015. Survived by his dad; his best friend and little sister, Brittney; aunts and uncles, Rich (Rita) Hutton, Larry (Bobbi) Boni, Frank (Cathy) Boni, Joe (Sharon) Boni, Debbie (Scott) Barnes, Craig (Debbie) Boni and Amy (Patrick) Girvin; grandmother, Patricia Hutton; and many friends. Zach was deeply loved.
Every person that was blessed enough to have met Zach is sure to remember the rare and extraordinary person he was.
In keeping with Zach's wishes cremation services have been entrusted to Muir Brothers Funeral Home, Lapeer. Arrangements for a memorial service are forthcoming.
Events
Event Information
Services will be set for a future date to be determined.