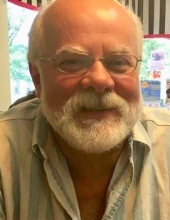 Obituary for Joseph Franz
Joseph Franz, age 64, of Hadley, formerly of Warren, passed away Tuesday, January 2, 2018.

He is survived by his beloved wife of 35 years, Diane Laura (Phelps) Franz; children: son, Joseph (Jessica) Allen Franz of Saginaw, and daughter, Maria Louise Franz of Lapeer; and granddaughter: Nora Grace Franz.

Joe was born May 30, 1953 in Sandusky to Martin and Maria (Tabor) Franz. He graduated from Cousino High School in Warren in 1971. He married Diane Laura Phelps in East Detroit on December 3, 1982. He recently retired from nearly 32 years of his career as a skilled automotive mechanic for General Motors.

A Hadley resident for 30 years, Joe had many passions and talents aside from his interest in cars. He was a gifted woodworker who could build anything from a playhouse to picnic tables without instruction or assistance. He was also a diligent gardener who enjoyed planting vegetables. Joe was bilingual in German as his first language and heritage, he appreciated working on cars in his spare time, model trains, attending auto shows, listening to classic rock music, and caring for his dog Aly and cat Mushroom. He loved playing with his granddaughter Nora and spending quality time with family.

Joe was preceded in death by his parents and grandparents.

In addition to his wife Diane, children, and granddaughter, he is survived by his brothers: Anton (Rose) Franz of Bruce Township, Wilhelm (Joanne) Franz of Avoca, and Johann (Edna) Franz of Marysville; nephew: Kurt (Pamela) Franz of Warren, as well as many other nephews, nieces, great-nephews, great-nieces, and cousins.

A gathering was held in honor of Joe's life on Saturday, January 6, at Muir Brothers Funeral Home in Lapeer. In lieu of flowers, memorial contributions may be made to his family. Cremation has been entrusted to Muir Brothers and cremains will be shared with his wife and children. Condolences and memories may be shared at www.muirbrotherslapeer.com.
Previous Events
Receive Friends
Muir Brothers Funeral Home
1021 S Lapeer Road
Lapeer, MI 48446
Memorial Contribution