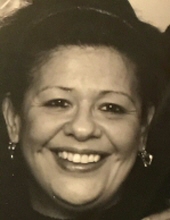 Obituary for Janie Aguinaga Pope
Janie Easter Aguinaga Pope, 52, of Lapeer, died Wednesday, January 17, 2018.

Janie was born April 18, 1965 in Lapeer, Michigan to Manuel Aguinaga and Gloria (Olivarez) Aguinaga. Through the years Janie worked many jobs including housekeeping and landscaping but always seemed to enjoy her time waitressing the most. She worked for several years at the Farm House Restaurant here in Lapeer. Janie was outgoing, loving and so very funny – she lit up every room she entered. Above all, Janie dearly loved her family.

Janie is survived by her mother, Gloria Aguinaga of Lapeer; father, Manuel (Linda) Aguinaga of Florida; step-mother, Deb (Dan) Kothen of New York; siblings: Louise (Bryan) Haskins of Midland, Monica (Brian) Guigar of Lake Orion, Henry Aguinaga of Lapeer, Tony (Lea) Aguinaga of Lapeer, Kenny (Tori) Tiernan of Pontiac, Keith (Salina) Tiernan of Pontiac and Brianne Aguinaga of New York. Janie is also survived by many, many beloved nieces and nephews. She was preceded in death by her Uncle John Olivarez; Grandma Lucia Olivarez; grandparents: Phyllis & Antonio Aguinaga; cousins, Steven Sanchez and Florenda Sanchez.

A memorial service will be held 11:00 AM Tuesday, January 23, 2018 at Muir Brothers Funeral Home. Janie's family will receive friends from 10-11AM Tuesday morning before the service. Anyone interested in helping with the luncheon is asked to contact Art Gutierrez.

Memorial contributions may be made to Tony Aguinaga.
Previous Events
Gathering/Visitation
Muir Brothers Funeral Home
1021 S Lapeer Road
Lapeer, MI 48446
Memorial Service
Muir Brothers Funeral Home
1021 S Lapeer Road
Lapeer, MI 48446