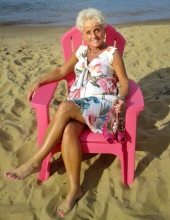 Obituary for Karen Joy Griffin
Karen Joy Griffin, a long-time nurse at Sparrow Hospital and resident of Lansing, died unexpectedly on February 7, 2018 at the age of 63.

Karen was preceded in death, and ushered into heaven, by her loving parents Truman and Kathyleen "JoAnn" Horton, and brother-in-law Lynn Rowe. She is survived by her children: Nathan (Annette) Webster of Bay City; Austin Webster of Eaton Rapids; Tiffany Webster of Washington state, grandchildren: Bailey; Amia; Madison; Cadence, siblings: Terry (Cindy) Horton; Diane Rowe and Richard (Beth) Horton.

Karen was born in Lapeer, and grew up in Oxford. She became a Registered Nurse in the OB Special Care Unit of Sparrow Hospital, recently retiring in 2016. Karen was passionate about caring for her patients and work family, greatly impacting many lives throughout her career.

Karen was known for her love of fun and laughter. She enjoyed life by spending quality time with family and friends, playing with her dogs Gizmo and Dancer, and soaking up as much time as possible at outdoor music concerts, Florida beaches, and Michigan State football games. More than anything, it was Karen's granddaughters who were the true light of her life.

To honor Karen's joyful spirit, a Celebration of Life will be held at Dublin Square in East Lansing on April 7, 2018 at 3pm. In lieu of flowers, memorial donations may be sent to Paradise Animal Rescue at 2266 N Lapeer Road in Lapeer.