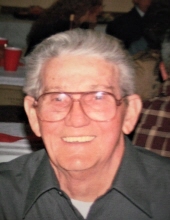 Obituary for Roy "Pat" Griffith
Roy "Pat" Griffith, 90, of Attica (formerly of Atlanta, MI), died Saturday, February 17, 2018.

Roy was born January 23, 1928 in Lapeer to Peter and Helen (Bacon) Griffith. He graduated from Lapeer High School, class of 1947. Pat enlisted into the US Navy at age 17 – he served his country proudly during WWII. He married Helen Davis shortly after returning from his service. Pat was a building manager at the Lapeer State Home for many years. Upon moving to Atlanta, Pat continued his career with community mental health and managed several group homes in the Atlanta area. Pat loved fishing, reading, woodworking and spending time with his family.

Pat is survived by his wife, Helen Griffith; four children: Bob (Billie) Griffith, Karen (Gene) Cady, Sara (Bill) Schuyler and Brenda (Matt) King; fourteen grandchildren; twenty-three great-grandchildren; and one great great-grandbaby. He was preceded in death by his son, William Griffith in December of 2016; ten siblings: Richard Griffith, Howard Griffith, Otho "Dude" Griffith, William Griffith, Neta White, Ila Brocker, Leota "Marie" Spens, Betty Verbeke, Gwendolyn Clemens and an infant sister; and his (aforementioned) parents.

Memorial contributions may be made to the VFW Post #4139, 128 Daley Road, Lapeer, MI 48446 or the Disabled American Veterans, P.O. Box 14301, Cincinnati, OH 45250-0301.

In keeping with Pat's wishes, cremation has been entrusted to Muir Brothers Funeral Home, Lapeer.
Memorial Contribution
Disabled American Veterans
P.O. Box 14301
Cincinnati, OH 45250-0301