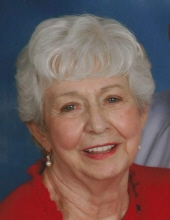 Obituary for Alice Jepsen
Alice Jepsen, age 81, of Port Charlotte, Florida, formerly of Hadley, Michigan, died Sunday, May 27, 2018. She was born August 16, 1936 in Ferndale, Michigan, to Ethro and Maggie (Holder) Loudermilk.
Alice graduated from Lincoln High School of Ferndale, Mi in 1954 and married Karl Michael Jepsen on September 22, 1956, at St. Rita's Catholic Church in Detroit. Mrs. Jepsen worked as a homemaker and as a teller and switchboard operator for the Detroit Bank & Trust. When her children were older, Alice worked for 15 years at Lapeer Regional Hospital. After retiring, Mr. and Mrs. Jepsen moved to Port Charlotte, Florida, and also enjoyed spending time in Cheboygan, Michigan. Alice's conversion to Catholicism later in life profoundly impacted her spiritual and personal life. She was a faithful, devoted member of St. Charles Catholic Church in Port Charlotte, Florida. Mrs. Jepsen was a loyal supporter of U.S. Military charities, and enjoyed tending her beautiful flower garden, but her true passion was oil painting. She was a talented and accomplished artist, painting in multiple genres including: portraits, landscapes, figures, still life and interiors. Mrs. Jepsen was a member of the Punta Gorda Art Guild and even had some of her work displayed at the Visual Arts Center in Punta Gorda.
Alice is survived by her husband: Karl Jepsen of Port Charlotte; children: Michele (Rick) Tromble of Cheboygan, John (Kathy) Jepsen of Lapeer and Kelly (Mike) McGlashen of Ann Arbor; grandchildren: Jessica (Evan II) Robinson, Stephanie (Mike Mascolo) Tromble, Erin McGlashen, Anna McGlashen and Emma McGlashen; greatgrandchildren: Kylie Robinson, Abigail Robinson, Evan Robinson, III, Guy Hoke and Aubree Hoke; siblings: Walter (Rose) Loudermilk, JoAnn (Gene) Uhrynowski, David (Charlene) Loudermilk and John (Dana) Loudermilk; brothers-in-law: Walter (Sandy) Jepsen, John Gorman (Chris) Jepsen and Thomas (Cheri) Jepsen; and many many nieces and nephews. She was preceded in death by her parents: Ethro and Maggie Loudermilk; and brother: Jerry (Lola) Loudermilk.
The Funeral Mass for Alice will be 11:00AM Saturday, June 30, 2018, at Immaculate Conception Church, 814 West Nepessing St., Lapeer, Michigan 48446. The family will receive friends from 10-11AM Saturday, June 30, 2018, at the church. Father Doc Ortman will celebrate the funeral mass, followed immediately by a luncheon at Sandhill Farm, 3588 Merwin Rd., Lapeer. Everyone is welcome.
Memorial contributions may be made to Bishop Kelley School, Lapeer, Michigan, Saint Vincent De Paul of Lapeer, Michigan, or Wounded Warrior Project, P.O. Box 758517, Topeka, Kansas 66675 (www.WoundedWarriorProject.org). Condolences and memories may be shared at Muir Brothers Funeral Home, Lapeer, MI.
Previous Events
Receive Friends
Immaculate Conception Church
814 West Nepessing Street
Lapeer, MI 48446
Funeral Service
Immaculate Conception Church
814 West Nepessing Street
Lapeer, MI 48446
Memorial Contribution
Wounded Warrior Project
P.O. Box 758517
Topeka, Kansas 66675-8517
St. Vincent De Paul
c/o Immaculate Conception Church
814 West Nepessing St.
Lapeer, Michigan 48446